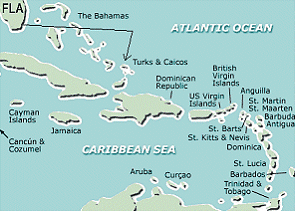 Getting to Grand Turk
To get to Grand Turk Island first fly to Providenciales, Turks and Caicos, and catch a short interisland flight to Grand Turk.
Fly to Providenciales Airport (PLS)
Air Canada
American Airlines
Bahamas Air
British Airways
Continental
Delta Air Lines
Jetblue
South West Airlines
US Airways
West Jet
Then from Providenciales, fly to Grand Turk Airport (GDT)
intercaribbean.com
turksandcaicosflights.com
Please contact the airlines directly! They will be happy to help with your reservations.
Ground Transportation
Taxis are available at the airport for the short 10 minute drive to the hotel, rate $7 per person
Passport requirements:
All travelers, including U.S. Citizens and Green Card holders from the Caribbean, Central America, South America and Bermuda, are required to have a passport to enter or re-enter the United States.

Pre Travel requirements:
A negative Covid-19 test is required for entry into theTurks and Caicos Islands on all International flights. Not required for Domestic flights.

Information relating to pre travel requirements into the Turks and Caicos Islands can be found on the Tourist Board's Website at www.turksandcaicostourism.com