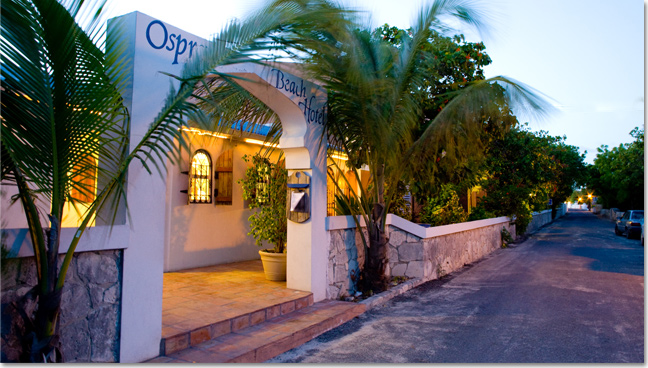 Grand Turks Hotel
Grand Turk Island is the capital of the Turks and Caicos. In the grand Turks hotel tradition, the Osprey Beach Hotel features an authentic beachside experience. No hotel Grand Turk puts the off-the-beaten road traveler closer to the beach than Osprey Beach, the most genuine hotels Turks experience in the Caribbean.

Authentic means enjoying the true essence of the fabulous hidden Caribbean treasure that is Grand Turk Island. Grand Turk hotels bring beautiful unsullied vistas as far as you can get from the maddening pace of the workaday world. You see donkeys roaming freely. Walking or island taxis take you anywhere you want. No need for guides or schedules.

The authentic Grand Turks hotel experience allows you to walk or run along the beach literally just outside your room. Beautifully pristine white sand beaches just outside the suite are great for sunbathing, reading, relaxing, and perhaps swimming in the endless summer waters washing away life's worries.

How about some snorkeling or scuba diving? Get some invigorating spa treatments or just relax. Perhaps you prefer some quality socializing with friends at the bar. Many guests, singles and couples, return on a regular basis because they can't get enough of the genuine Caribbean experience.

Nearby world class beaches you will remember with feeling forever include Corktree Beach, Pillory Beach and West Road Beach. South of the capital, Town Beach and Cedar Grove Beach are fantastic for singles and couples alike. Nature lovers appreciate the off-the-beaten track quality of life in these exotic places showing off the true Caribbean experience.

Osprey Beach Hotel is known throughout the world as a true beachfront hotel, on a Caribbean island known for its excellent scuba diving. Visit the website and contact Osprey Beach Hotel to reserve your stay at this Grand Turks hotel.