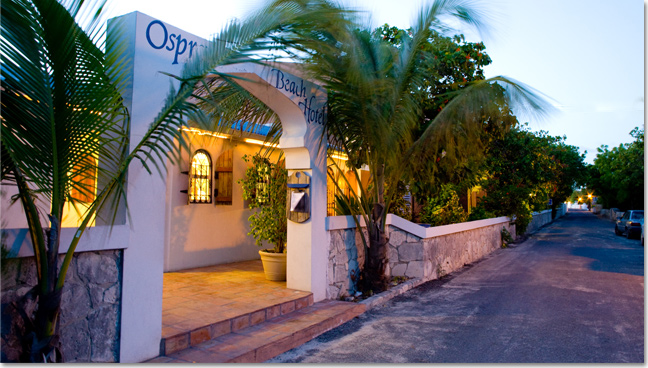 Turks and Caucus Beaches Hotel
When you visit Grand Turk Island, Osprey Beach Hotel is the Turks and Caucus beaches hotel featuring the most authentic, laid-back island experience. With beautifully pristine white sand beaches and secluded just outside your suite, walking, running and swimming in the endless summer waters washes away life's stresses and worries.

The ultimate authentic Turks and Caucus beaches hotel lets you enjoy the unspoiled beaches and authentic atmosphere far from the usual tourist stuff. You didn't come to a Turks and Caucus beaches hotel for anything less than the real deal.

How about some snorkeling or scuba diving? Get some invigorating spa treatments or just plain chill at the warm, soothing Caribbean with water temperatures in the 70s or warmer, year-round and nobody bugging you except people you want along for the fun.

Perhaps some sunbathing, reading at poolside or beachside, quality socializing with friends at the bar. Many guests, singles and couples, return on a regular basis because they can't get enough of the genuine Caribbean experience.

Beautiful unsullied vistas greet you. Walking or island taxis take you anywhere you want. No need for guides or schedules. You're on your own and having the ultimate in tropical resort island fun in the sun.

Grand Turk Island is the capital of the Turks and Caucus with Osprey Beach Hotel right at its beachside heart away from the crowds and regular tourist fare. Leaving your sweet suite, nothing beat walking or running along the beach just outside your room. To appreciate the untapped beauty and soothing peace of the genuine island life, nothing beats the restful pace of Osprey Beach Hotel.

For the ultimate Turks and Caucus beaches hotel, Contact Osprey Beach Hotel (by phone or email) to reserve your stay.