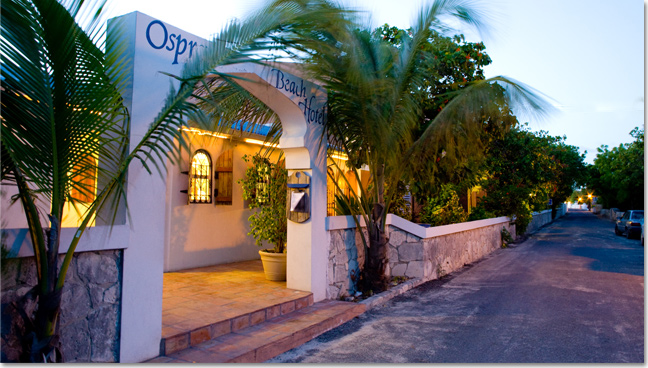 Turks Hotels
If you are planning a trip to the Grand Turks, you will be pleased with the many Turks hotels that are available, especially the Osprey Beach Hotel. Of all the Turks hotels, Osprey Beach stands out with its 27 beachfront rooms - each with a spectacular view of the Caribbean beach.

Come and discover the Grand Turks, the capital island of Turks and Caicos known for its scuba diving and other relaxing pursuits. Unlike the tourist traps of other Caribbean islands, in a Turk hotel you can leisurely enjoy sunbathing, snorkeling, spa treatments, or hanging out at the beach with friends.

When you stay at the Osprey Beach Hotel, you are just a 10 minute boat ride from the hotel beach where you can start one of the scuba diving adventures the Grand Turks in known for. Staff at Osprey Beach Hotel will gladly make your scuba diving arrangements ahead of time. When it comes to providing outstanding guest services, the Osprey Beach Hotel is simply one of the best Turks hotels you will find.

After you have enjoyed a full day of shopping or perhaps taking a guided tour of the Grand Turks, it's time to enjoy a barbeque at Osprey Beach Hotel's attached restaurant. You and your travel companions will enjoy dining in the open air environment of this fun and friendly Turks hotel.

The Grand Turks is truly a unique vacation destination. You will find donkeys roaming the streets as freely as people. You can leave the stress of driving and renting a car behind since most attractions are within walking distance or a short cab ride away.

For an unforgettable vacation experience, bypass the other Turk hotels and stay with Osprey Beach Hotel. Visit our website today to reserve your spot in vacation paradise.